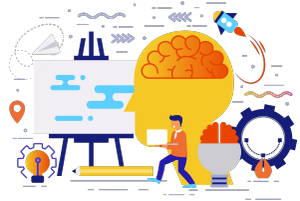 About the web portal USEFUL.academy
The web portal USEFUL.academy for peer-reviewed, scientific open-access journal, digital repository and other useful scientific resources.
Our real-world skills approachable and designed to meet the most in-demand goals.
The web portal USEFUL.acdemy includes our scientific journal - USEFUL online journal.
About USEFUL online journal
USEFUL online journal is scientific journal for discovering and sharing scientific research about environment, construction, global climate change, green building, biological science.
The mission of our USEFUL online journal is to democratize science to help safely build our home.
USEFUL online journal was founded in 2017 by a group of professionals and scientists. The headquarter located in Miami, US. We are the international scientific journal and working around the globe.

In 21 st century there are a lot of IT technologies, and our team decided to introduce fundamental science with new look and possibilities. We would like that every science job has life and future. 
The frequency of issues: Quarterly, Since 2017.
ISSN 2574-4461 (online)
ISSN 2639-8044 (print)
ISSN 2640-9631 (repository)
Why we focus on diversity
We welcome all kinds of researchers, but we are encouraging more researchers with engineering and computer science background from east Europe. Why do we have a particular focus on Eastern Europe?

Talent is evenly distributed, but an opportunity is not. With our integrated solutions, we allow more talent to have a chance to provide their research to the world. 

Traditional the system of the academy of sciences and education of Eastern Europe countries during their stay in the Soviet Union did not popularize their researchers to the worldwide public.

The emerging economic difficulties in the procession of the establishment of democracy and the independence of such states did not allow for the proper financing of scientific research. But high willpower and dedication allowed many scientists to achieve success in their research.
We believe that most hidden gems for scientific can be found beyond the places where everyone's looking, outside popular, well-known scientific institutions and laboratories.
We always improve our journal and ready for dialogue. We are here with one goal – MAKING OURSELVES USEFUL.
Why we love our mission
Because we believe that learning changes lives, that belief is at the heart of everything we do at the web portal USEFUL.academy. We serve people who care about science, and our mission is to democratize science and integrate it into life. It isn't just fanciful ideology.  It's highly pragmatic: having a mission helps us to do it.
Open Access
The web portal USEFUL.academy has an open access. Articles published in USEFUL online journal and in the DSpace at USEFUL.academy are freely accessible to the global public under the terms of the Creative Commons Attribution License (http://creativecommons.org/licenses/by/4.0/), which permits unrestricted use, distribution, and reproduction in any medium, provided the original work is properly cited.
Open Access - free for readers, with article processing charges (APC) paid by authors or their institutions.
Also, The DSpace at USEFUL.academy and USEFUL online journal is made available under the Open Database License.